Respiratory Rehab/Vent Support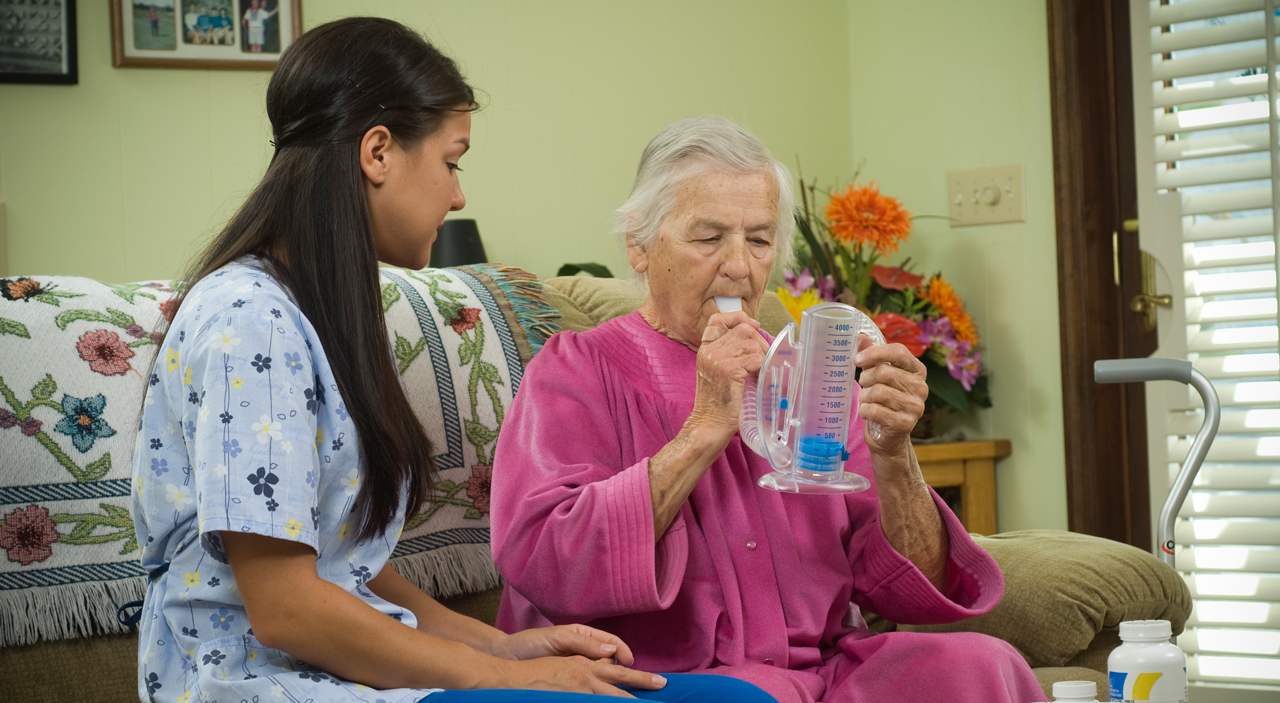 Bear Mountain at Worcester is a specialized skilled nursing facility. We are often a transitional step between hospital and a traditional skilled nursing and rehabilitation unit. Our team is experienced in providing care for medically complex patients who may need respiratory rehabilitation and ventilator support.
Bear Mountain at Worcester is committed to providing exceptional care and support for those who are mechanically ventilated due to COPD and other advanced respiratory diseases, spinal cord injuries, neuromuscular diseases and brain injuries. Our team gives every patient ventilator weaning trials, even if the individual had been deemed unweanable by other providers. Our respiratory rehabilitation program challenges 
respiratory limitations by developing a customized care plan designed for optimal 
recovery and a return to independence.
We are recognized as the leader in Massachusetts in weaning long-term ventilator patients.
We are the only facility in Massachusetts that consistently uses the Passy Muir Speaking Valve on ventilator patients. The valve, when used on a ventilator patient, allows them to speak and improves their ability to swallow which allows them to resume eating. These two factors, speaking to loved ones and eating meals, have proven vital in liberating patients from long-term ventilators.

We understand the challenge in choosing the best quality care setting. We invite you and your family to visit us and experience first-hand our unique approach to caring.
Ventilator Care/Respiratory Care
Respiratory Rehabilitation
Vent Weaning
Short-Term Rehabilitation/Post-Acute Care
Long-Term Care
Physical, Occupational, and Speech Therapy
Behavioral Health Services
Respite Care/Reduced Respite Rate
24-Hour Respiratory Therapists
Tracheostomy Care
Vent Weaning/Vent Management
Use of Cough Assist Machines
Use of Passy-Muir Valve for Speaking
Social Service/Case Management
Diabetic Care
Wound Management
Advanced IV Therapy
Pain Management
Cardiac Care
Nutritional Counseling
"The Gym", a state-of-the-art rehab resource
Salon
Cable/WiFi/Flat Screen TVs
Pet-Friendly Policy
Private and Semi-Private Rooms
Facility Van for Trips
Religious Services
Facility License: Skilled Nursing Facility
Certifications: Medicare, Medicaid,
NY Medicaid for TBI, CT Medicaid for TBI
We accept most insurance plans
Passy-Muir Center for Excellence